Let Aido Install Your New Water Heater
When you're in the market for a new hot water heater there are a number of things to consider.
How large is your home and how many people are you accommodating? How much water do you use daily? Is one unit enough for your home? How do you know what kind of water heater to have installed in your home or business?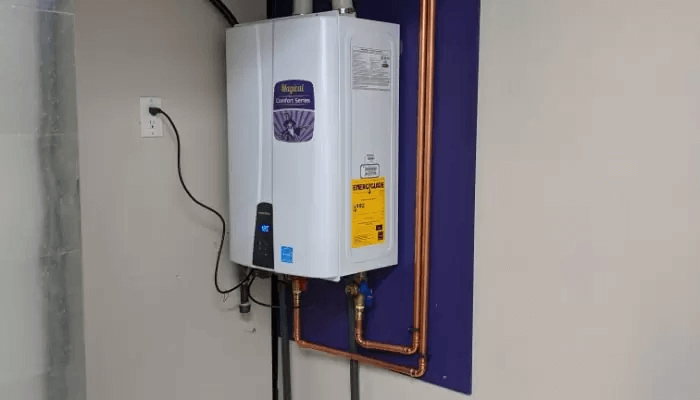 Factors To Consider When Choosing A Water Heater
One thing to consider is if you want a tankless or tank water heater. Tank water heaters provide a constant, ready supply of hot water while tankless, or on-demand, water heaters provide hot water only as it is needed.
Another factor to consider when choosing a replacement water heater is what kind of fuel the water heater will require. Water heaters run on electricity, gas or the combination of the two. The fuel source that works best for you will depend on your energy efficiency goals.
The experts at Aido can help you determine whether a tank or tankless heater will meet your needs best and if you should continue using the same source of fuel for your new heater or if you should make a change. The energy it takes to heat your home's water accounts for about 18% of your home energy use. Energy efficient models can help you achieve energy and utility cost savings.
What Size Water Heater is Right?
Another thing to consider is what size water heater can you accommodate? We'll measure and assess the space you have and use that to determine what water heater is best for you. We can show you water heaters that come in a variety of sizes from compact to medium so that they can fit in a variety of structures.
A residential water heater can range from 20 to 80 gallon capacities. With a tank water heater, 40 to 50 gallons is considered acceptable for homes of 2 to 3 people. On estimate, every additional person requires an additional 10 gallons of water. On the other hand, tankless water heater capacities are measured by flow rate, calculated in the gallons per minute.
Another way to look at the capacity of your tank is the First Hour Rating. This will be clearly printed on your tank. It's how much water you can get from your water heater in its first hour of operation. This should represent how much water your family uses at peak time, when the dishwasher, washing machine and shower may all be running at the same time.
Call Aido Today
The experts at Aido Climate Solutions Inc. will help you select the best water heater for your family. We'll look at size, capacity, energy efficiency, fuel usage and other factors to help determine the best choice and ensure to have the right resources on hand.
Call Aido today to have us install your new water heater. Whether you go tank or tankless you'll be glad you took the time to update this equipment when you see the energy and utility savings.