Let Aido's Service Wizards Install Your New AC
When you need a new air conditioner installed, you'll want to ensure you're working with a company you can trust that has the expertise to set you up with the AC appropriate for your home and family. Aido Climate Solutions Inc. will put our years of industry experience to work for you, evaluating your home's cooling needs and recommending the best AC equipment to keep you cool and comfortable throughout the summer.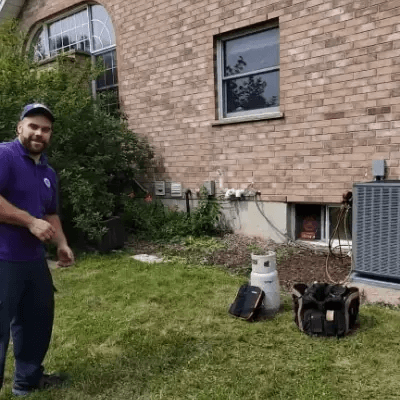 Three Things You Should Know Before Buying A New AC
Aido installs central air conditioning systems and ductless AC systems for Guelph area homeowners. Before you invest in a new air conditioner, it helps to be versed in some of the terms used to describe air conditioning units.
The SEER (seasonal energy-efficiency ratio) rating tells you how energy efficient your equipment is. This translates to how much you'll spend on energy.
Tonnage refers to cooling capacity - how much heat your unit can remove from a space at a time.While some companies look at just the size of the unit installed, Aido Climate Solutions Inc. looks at your insulation, ventilation and other aspects of your home to determine the best course of action for replacing your air conditioning system.
You may want your new unit to include another element that improves efficiency. A "smart" or programmable thermostat can help you save up to 30% on energy by controlling when to turn the temperature up in your home.
Knowing about SEER, tonnage and programmable thermostats can help you when you decide on a new unit for your home. You can also rely on the expertise of the technicians Aido Climate Solutions Inc. to recommend a unit that would be best for your residence.
Aido's Air Conditioning Install Process
We do things the right way, NOT the easy way. You can count on our team for a thorough, precise central AC installation for your home. Our licensed and trained technicians take the time to do each step with careful attention. Our installation process involves two licensed technicians and includes:
Prep Before Job
Evaluate site, including current system performance and ductwork.
Determine sizing requirements.
Create digital quote.
Review questions and options with you, our customer.
Photograph job site.
Schedule your installation, typically within 48 hours.
During Job
Reclaim refrigerant from existing system (if applicable.)
Remove existing equipment and dispose of.
Prep site and add brackets or pad, as applicable.
Install condensing unit.
Install evaporator coil.
Install lineset, or properly flush lineset, as applicable.
Braze all connections while flowing nitrogen.
Pressure test with nitrogen (450 PSI).
Connect electrical.
Release refrigerant charge and balance system properly using subcool/superheat.
Test the unit in operation, thoroughly, to ensure safe, efficient operation.
Job Completion
Review full installation with you.
Photograph installation.
Register warranties as required by the manufacturer.
Offering Complimentary New Air Conditioning Estimates
We've completed hundreds of installs in your area. We focus on making each one a 5 star job with expertise, precision and communication. Call Aido Climate Solutions Inc. (519) 835-2436 to schedule your complimentary new install consultation now!