Boiler Installation and Repair Services
Winters in Guelph are nothing to be casual about. It gets cold! And when it gets cold, a boiler can be the strongest and most economical option for heating your family's home. You can count on the service wizards at Aido Climate Solutions Inc. for your home's boiler service needs, including maintenance, repair and replacement.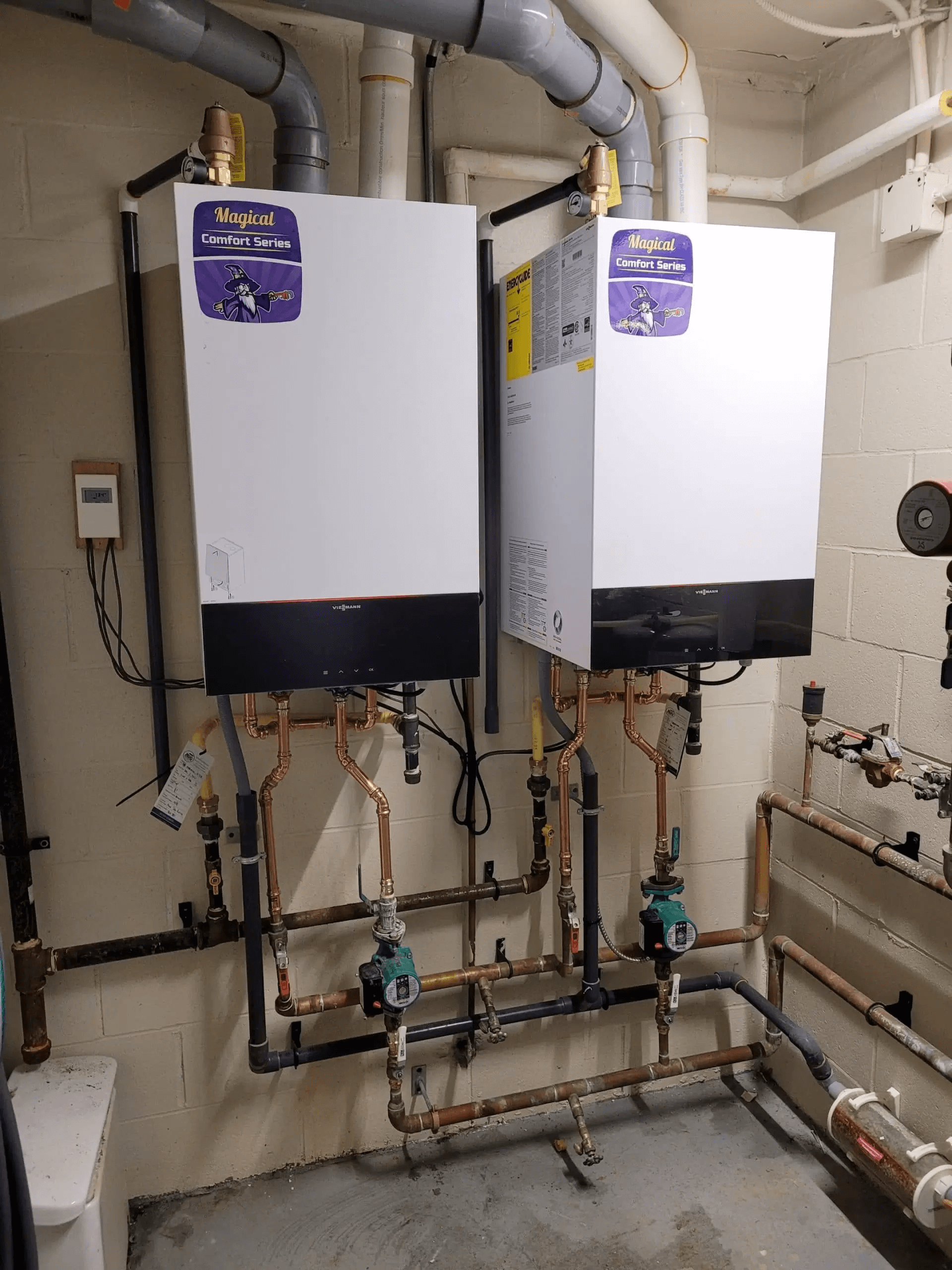 Our Boiler Services
Boiler Repair - One of the great things about owning a boiler is that it rarely needs a repair. However, when it does, Aido is here for you. Whether it is leaking, kettling, not producing heat or you are having pilot light problems, our team has worked on residential boilers for years and will be able to help fix your unit.
Boiler Installation - If you would like to install a new boiler in your home or replace your existing boiler, we have a number of quality options you can choose. Our certified technicians will have your new boiler installed with precision, ensuring it functions properly for decades to come.
Boiler Maintenance - Regular checks of your boiler can help it to run better for longer. Our team is happy to run through the checklist with you to keep any issues well at bay during your boiler's operation.
Consider A Combi for Heat & Hot Water
A combi boiler combines two of your home's most important appliance needs into one - heat and hot water, essentially replacing your furnace and hot water heater. This incredible unit is very energy efficient and can save you hundreds of dollars on energy costs. In addition, instead of having two big bulky appliances in your home you just need one, so if space is something you need a combi may be a great option for you.
In addition to saving you on your bills each month, the purchase of a new combi may make you eligible for a $1,000 Energy Rebate. Contact our team today to learn more!
Types of Boilers We Service
Gas Boilers - Fueled by either natural gas or propane, these boilers are highly efficient for heating homes in climates like ours. Natural gas isn't available everywhere and some users may pay higher prices.
Oil Boilers - When there isn't access to natural gas, these are the types of boilers that are most commonly seen. You'll need oil delivered and your costs of operating will fluctuate with the cost of oil.
Electric Boilers - These are highly efficient boilers but they are not cheap to operate because of the cost of electricity.
Types of Heat
Steam Radiators - This is common in older homes. Steam heat is one of the oldest heating technologies and can still provide consistent, sufficient heat throughout a harsh winter.
Hot Water Radiators - Common in most newer homes with boilers, hot water radiators can provide baseboard or upright heat. They can reduce your energy consumption because they allow you to control the temperature of each floor or a large space.
Radiant Floor Heating - The boiler heats water which is sent into tubes underneath the flooring. This is more efficient than baseboard heating but can be more expensive to install.
Call Aido For the Right Boiler For Your Home
When you need to install, repair or maintain your boiler, Aido Climate Solutions Inc. is who you want to call for expert boiler services in Guelph. Call Aido at (519) 835-2436 to talk with us about your boiler today.