Installing Magical Comfort In Your Guelph Area Home
When you are in need of a new heating system, you need to know the best size, model and type of heater for your home and you want to leave the installation to a company you can trust. Aido Climate Solutions Inc. will help you to determine the best furnace, boiler or forced air system for your Guelph area home based on the size of your home and the needs of your family.
Not only will we schedule installation at your earliest convenience, ensuring your family will have consistent, comfortable heat as soon as possible, but we'll also remove your previous unit and dispose of it in an eco-friendly way.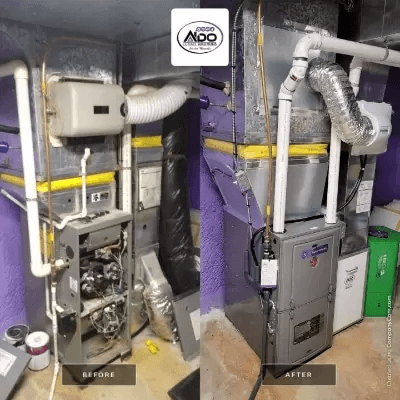 What Size HVAC System Does My Home Require?
Size is everything when it comes to your HVAC system – too small or too large of a system will lead to wasted energy and decreased indoor air quality. You should always have a professional determine what size HVAC system your home needs. An energy auditor can do a "Manual J" calculation on your home. This will tell you exactly what size system your house requires.
Choosing a Furnace
When you're looking for a new furnace you want to consider the highest efficiency furnace you can afford. No matter what kind of furnace you purchase, your furnace will be more efficient than your previous furnace, but the level of efficiency of your new furnace will determine how much you spend monthly on utility costs.
The AFUE rating measures efficiency - the higher the AFUE rating, the greater the efficiency of the furnace. Higher AFUE furnaces can be worth the greater expense in cold areas like Guelph because they mean less fuel wasted, lower operating costs and higher performance.
Choosing a Boiler
If your home has radiators or radiant floor heating, you'll need help from Aido's heating experts to choose the best new boiler to supply heat. We'll determine whether your heating system runs on steam or hot water, as well as what the best energy source for your boiler is: gas, oil or electric.
We'll also ensure your new boiler is properly sized to your home's heating needs and has a high energy efficiency rating. This will guarantee that you don't waste money on unnecessary fuel use.
Our Furnace Installation Process
Here at Aido Climate Solutions Inc., we only do thing the right way and never take the easy way out. Our experienced and licensed technicians perform thorough installations on your new heating system. They take the time to do each step of the process with precision and skill.
Our Team Will First
Evaluate the job site.
Prepare a detailed site plan and discuss it with you.
Schedule your installation, typically within 48 hours.
On Installation Day
We arrive on time, within your scheduled arrival window, with all materials and tools required for the job.
We remove your existing furnace.
We install the new furnace and adopt/transition to the new ductwork.
We run a dedicated gas line (½" Gastite CSST) and ensure all gas connections are tests for leaks.
We install the approved venting system, including combustion air, or connec to your existing venting system if it's already up to code.
We upgrade any return duct that is less than 10"X24" as required.
We install a new programmable thermostat and ensure it is configured and set up for your convenience.
We install your humidifier and configure it to maximize efficient humidification and optimal water savings. (If applicable in your package.)
We configure the furnace and adapt it to your home to ensure maximum comfort and efficiency.
We test the unit in operation thoroughly to ensure safe, efficient operation.
Once the Install is Done:
We spend time with you to train you on the system.
We follow up in 48 hours to ensure everything is working properly.
We register all warranties as required by the manufacturer.
We Provide Free Estimates On New Furnaces and Boilers
Call Aido Climate Solutions Inc. for a complimentary consultation and estimate on a new heating system. We'll talk to you about your family's needs and determine what furnace or boiler is best for your home or business. Call Aido Climate Solutions Inc. (519) 835-2436 today to discuss installation options for your new system.